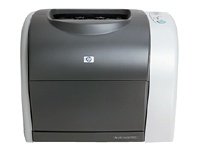 My old laser printer died, and a few days later I stumbled over a good offer on a Hewland-Packard HP Color LaserJet 2550L, which I promptly bought. I got it for around $440 plus VAT.
It is a colour laser printer, with four separate toner cartridges mounted on a carousel, and as the linuxprinting.org sites says, it works perfectly with Linux. The printer supports both PCL6 and PostScript Level 2.
My model is the smallest of the series. It has USB 2.0 and parallel port interfaces and a 125 sheet paper tray that opens on the side of the printer. Other models have an internal HP JetDirect print server, and a extra 250 sheet paper tray that is mounted below the printer.
I downloaded HP's PPD file for it to get all the available options. The PPD file has to be copied to /usr/share/cups/model/ and CUPS restarted before the printer is setup. Otherwise the model won't appear in the list. The printer can also be configured as a "HP Color LaserJet PCL6" printer, but that won't give you all the possible printing options.
The first message CUPS displayed for the printer was "Starting ESP Ghostscript…" which baffled me a bit, since CUPS shouldn't need to use ghostscript to process the print jobs, since it is a PostScript printer. The answer is that the internal PostScript engine in the printer is ghostscript, and that was the startup message that appeared.
I have only two grievances about this printer: its size and the noise. The printer is absolutely huge, requiring a space of at least 50x70cm with some extra space around it for cooling. It is not a printer you can put on a shelf. It requires a table. I was surprised at first, but the internal space in the printer is entirely taken up by the carousel with the four CMYK cartridges and the imaging drum, so it couldn't really be much smaller.
The noise is a result of the cartridge carousel. There is an initial noisy phase for any print job, where the carousel is turned to bring the correct cartridge into place, and if it is a colour print job, the noise continues throughout the printing phase, as the printer changes between the four cartridges several times for each pages. There is an option in the PPD file for "Print Color as Gray", and that will not only print faster, save wear and tear on the printer, but also lower the noise level quite a bit.
The following are the two status pages the printer can output, if one presses the right buttons simultaneously.