Today I paddled home from the beach park. Almost as usual, somebody had taken my kayak for use in a beginners course at Kajakhotellet, so I had to settle for something else. First I laid my greedy eyes on a Skim Distance which I haven't tried yet, but then someone pretending to be a buying customer showed up, and I had to give it back. I don't know why we free riders must always suffer this discrimination in front of paying clients. It not fair.
The Skim Dex was in use too, and so was the Nigel Foster Legend, and the NDK Romany, and the NDK Explorer had the skeg in disorder, and being a free rider I didn't fix it, so in the end I had to settle for a Nigel Foster Silhouette, which I have tried before. Life is hard sometimes.
It is a good kayak, though, but it doesn't fit me very well. It has a very low foredeck which forces me to sit with my legs too stretched for my taste, and the two huge pieces of ham I call my thighs has to be stuffed under the thigh braces. The cramped position gave me an uneasy feeling, and though the boat has good primary stability and very good secondary stability, I didn't quite feel good in it. I feel I have more lateral control when I sit in a position with my knees a bit raised.
Its a pity with Nigel Fosters designs. I have tried both the Legend and the Silhouette, and both are good boats, but neither fit me. In the Legend I feel like I'm sitting in a deep hole, because it has a rather high cockpit rim. I don't like it when my ribs touches the cockpit sides when I edge or roll. The Silhouette is much lower around the cockpit, but the foredeck is too low for me and my legs.
Anyway, this was about my paddle home from the beach. The beach park is on the eastern side of the island of Amager, and I live at Islands Brygge on the western side, so I have to paddle some 5-6 km north along the Øresund coast, enter the harbour and paddle another 5-6 km south inside the harbour before I'm home. Well, almost home. I still have a 500m walk from the water.
The first part in the lagoon of the beach park and behind the island of Prøvestenen was quite nice and quiet. It was a bit cloudy, and bit windy, but nothing extreme. There weren't too many people at the beach, since there was little sun.
I saw a funny wading bird with a long red beak, at the beach. I've never seen that kind before, so I'll have to look it up. I also saw two ducks of a new type, maybe pintails because they has a little loose feather on the back of their heads. I'll have to look them up too. Of course, they might just have been the few punk ducks that didn't fit in the with the rest 🙂 Later I saw a flying Grey Heron. They're very graceful in flight, though less so when they take a shit and almost hits you, as it happened the other day when I walked the dog.
Up at the wind farm at Lynetten, at the entrance to Magretheholm leisure harbour, there are usually a bit of waves. Today they were few and small, but the swells did give a bit of speed. Too bad I didn't feel at ease in the boat. It did take a bit of the fun away.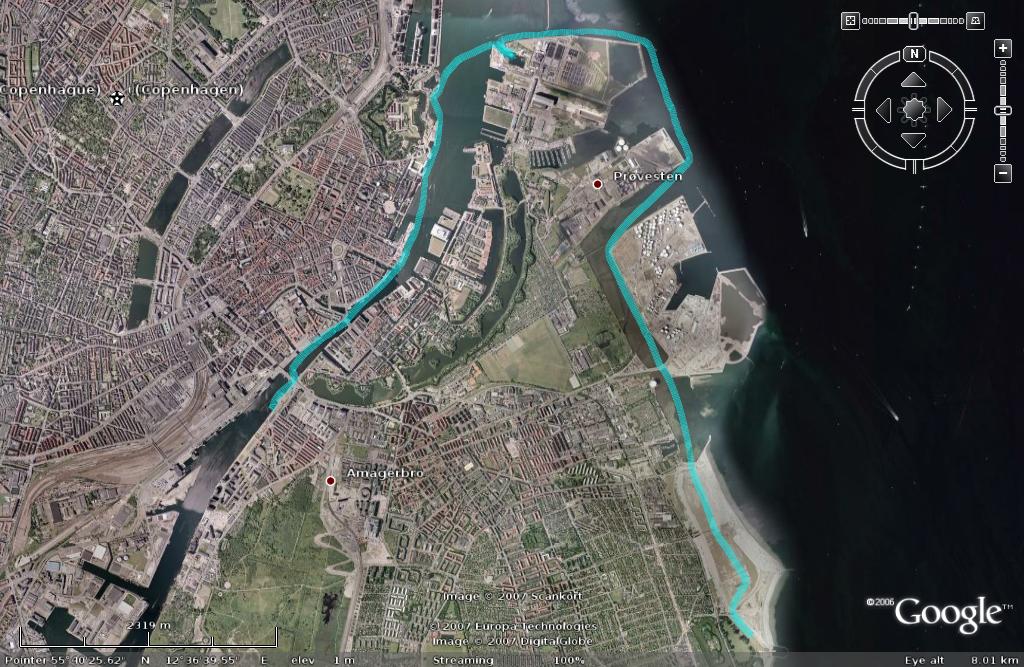 When I do this trip, I usually stop halfway to drink and each some chocolate. So I did today, only to discover two tugboats steaming towards me with something that resembled a piece of an offshore oil platform. I had to leave my chocolate on the spraydeck and paddle like a maniac to the other side of the harbour, where the big cruise ships are moored, to get out of the way.
Actually, I think I had the right of way because they approached on my left, but it didn't quite seem like the occasion to insist.
Instead I had the pleasure of eating my now slightly salty chocolate just in front of the statue of The Little Mermaid, so all the tourists got a bright red kayak in the background of their holiday shots.
The rest of the trip was utterly eventless, like I've done it many times now.
The trolley I use for the final 500m home is this: Eckla Sea Kayak Cart