Last Sunday I was supposed to meet with Angela Nickerson, an American travel writer I've met via the social networking site Twitter, to talk about Venice and kayaking and much else. Two other 'Tweeps' were invited too, Nan McElroy and Monica Ceserato.
Nan McElroy is an American travel author who lives in Venice for some years. Venetian rowing, Voga alla Veneta, has become her great passion, and she is very active in promoting Voga alla Veneta in Venice. Her latest endeavour is the cultural association VIVA which has the aim promoting Voga alla Veneta and ameliorating the conditions for traditional rowing boats in Venice, where motorised traffic have made rowing much more difficult.
Monica Ceserato is Venetian from the mainland, where she runs a B&B in the small town of Malcontenta, 15 minutes by bus from Venice, and does Italian classes for foreigners and English classes for locals. Monica came along with her British husband Chris and their son Pasquale.
When I arrived at the meeting point, the bar Al Timon in Cannaregio, I found a message on my phone that Angela had been taken ill so the meeting was cancelled. However, both Monica and I had made the journey, so we decided to meet anyway to chat and get to know each other.
Nan had promised Angela a tour in a new boat VIVA had acquired, a beautiful sandolo buraneo. The sandoli forms a whole family of traditional Venetian boats, mostly from around the northern lagoon, and the sandolo buraneo – or rather the sandolo grando da buranèi – was used around the island of Burano, some 8km north of Venice, for fishing and transportation of goods and persons. Now it is mostly used, painted black and decorated beyond recognition with seats and figurines, for a gondola-like tourist service in the city of Venice. The sandolisti sit at their stations throughout the city centre, calling out 'gondola, gondola' at passing tourists, though their boat is nothing like a gondola to even an untrained eye.
Nan decided to do the boat ride anyway, without Angela, so she went to find a rowing mate and fetch the boat. After a while she returned with Amelia in the boat.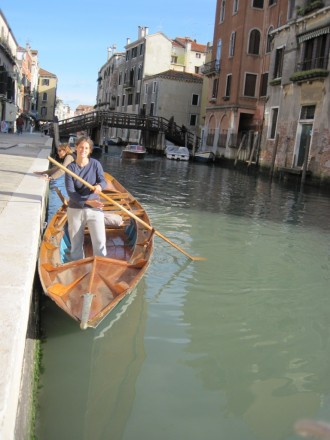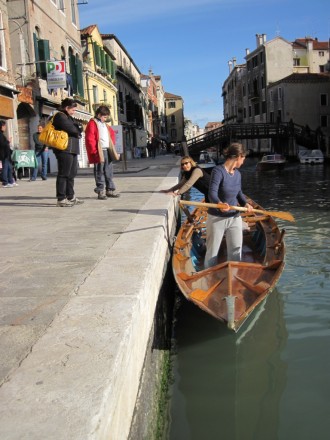 There was quite a bit of current in the canal, due to the changing tide, and the two girls rowing had to work hard. They rowed us through the Cannaregio area, down the Rio della Misericordia and the Rio Noale to the Canal Grande.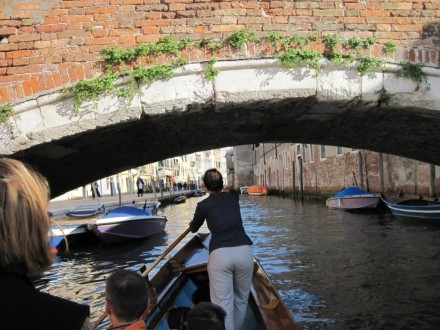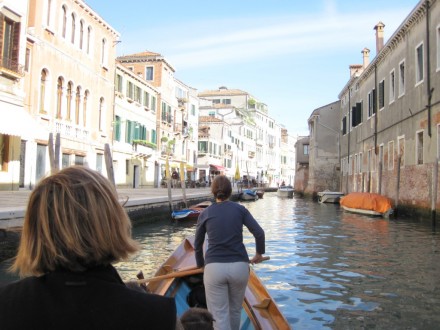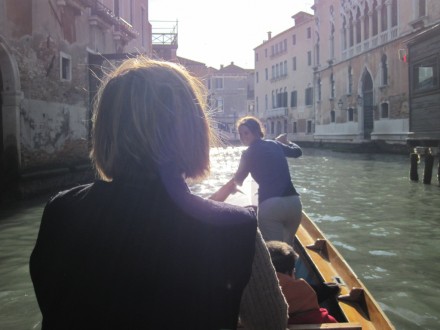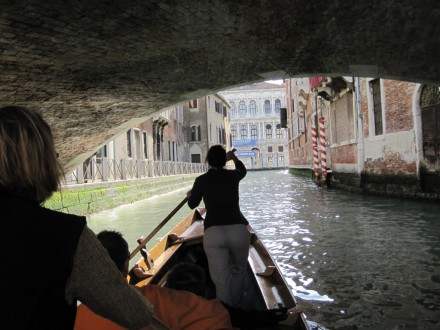 From there we continued towards the Rialto Bridge.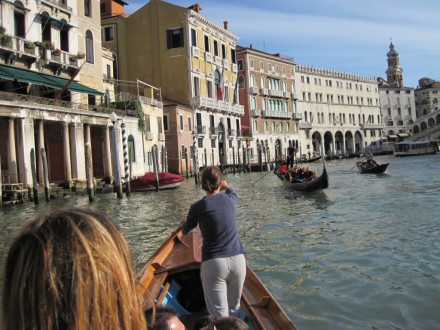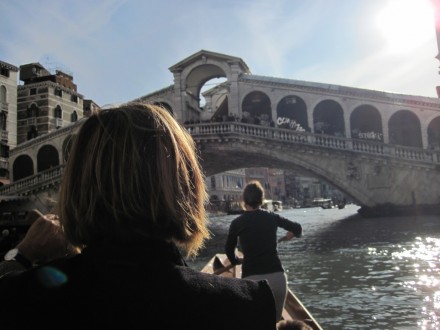 Even though I haven't rowed much this summer, Nan let me have a go at rowing a bit down the Canal Grande. I'm in no way an expert rower, but it worked OK and it was good fun.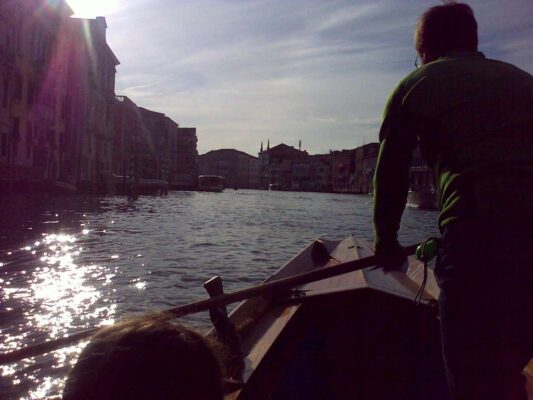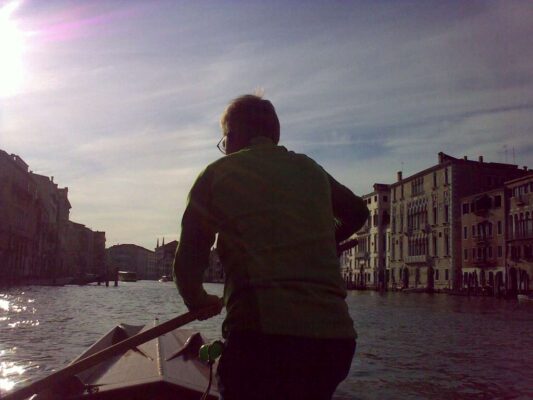 With Amelia back at the front oar we went up the Rio S. Polo, Rio S. Agostino, Rio S. Giacomo dell'Orio and Rio S. Zan Degolà  to Canal Grande, across and down the Rio S. Maddalena where the current played games with the boat again.
We stopped at S. Maddalena for cicchetti and a drink.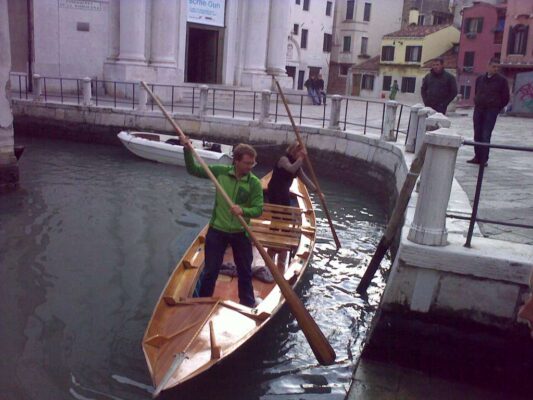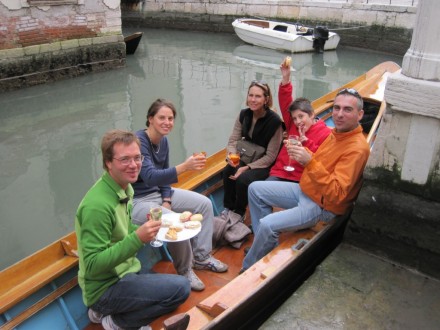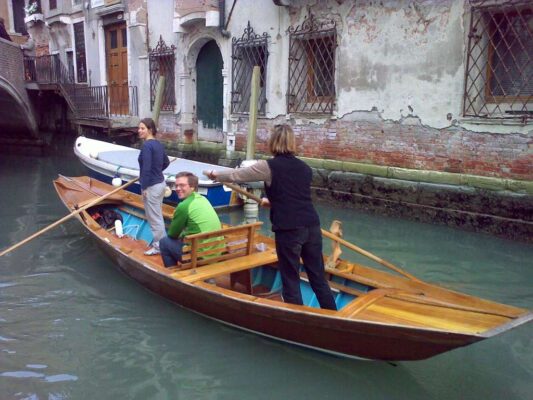 Monica, husband and son said goodbye here and walked to Piazzale Roma to catch a bus back to the mainland where they live. I continued with Nan and Amelia to moor the boat at its spot in the Rio della Madonna dell'Orto.
Unfortunately a motorboat had usurped the boat's mooring. While we waited for the owner of the motorboat to return, the girls spend a bit of time finding an place to unload the stuff on board. Just as we had given up waiting and had started to move the motorboat to another mooring, the owner appeared to remove his boat.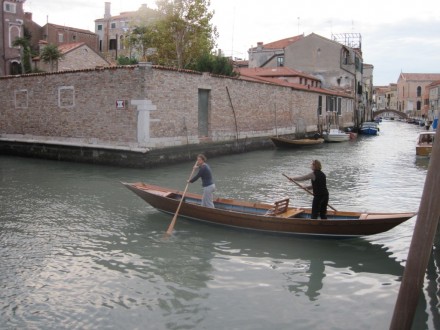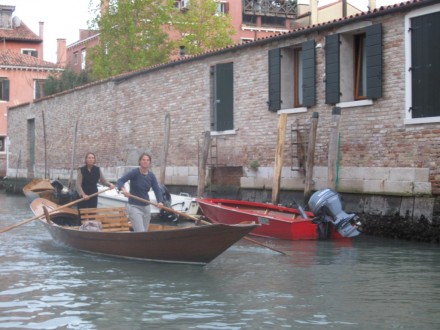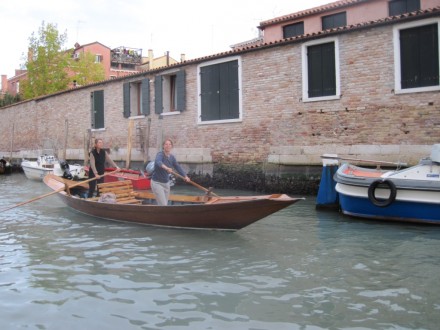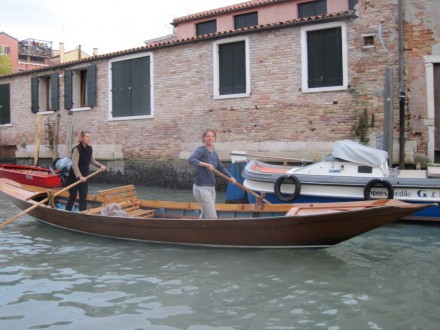 Amazingly, the tour was a first for Monica and her family. Though Monica is Venetian by birth, she's from the mainland, and none of them had ever toured Venice in a boat before.
That part of the experience wasn't new to me, as I spend more time in Venice in a boat than on land, but the tour was a first for me too. It is the first time ever I have rowed Venetian style in the city of Venice and on the Canal Grande.
Links
Angela Nickerson:
Nan McElroy:
Monica Ceserato: