We have had quite a weather day today. We started early because we had camped on a beach smack in the middle of Santa Teresa Gallura. No point in inviting trouble since we did camp illegally once again.
The water was very calm as we started but as we approached Capo Testa we heard thunder, and as we were halfway around the cape we saw lightning and it started to rain.
The rocks at Capo Testo are truly amazing. They're sculpted by wind and waves into a million different shapes, and we spent a good time taking photos in the ever changing light of sunshine during rain with a rainbow.
After Capo Testa we moved down the coast, but my aching back got really bad in the waves, so we turned in for a short break on the first beach we found. I set up all the solar panels, ate a biscuit and fell asleep while Wendy went rock watching. In Italy time is different, so our short break lasted two and a half hours.
When we were ready to set out again, the wind had grown stronger and turned west, so we almost had a straight headwind again.
The rest of the day was a slow push against the wind. We continued until the little town of Vignole Mare where we set up camp on the beach, almost under one of the old Spanish towers.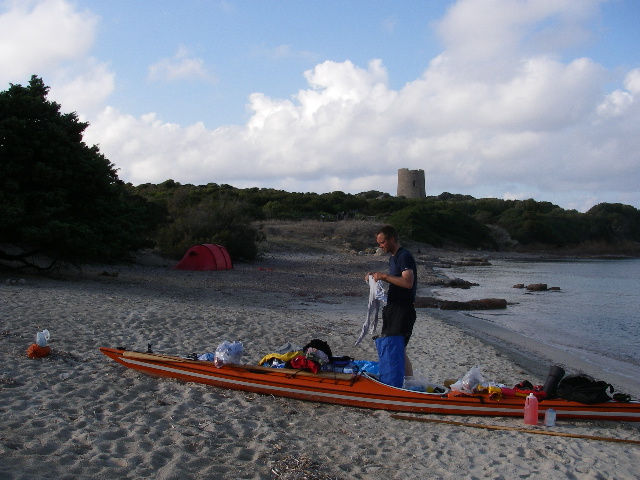 We're having dinner in a local restaurant now. Not bad, but they had most unconventionally put bacon in my plate of penne all'arrabiata. That's definitely a no-no in my book.
Let's hope that tomorrow, we enjoy fair tailwinds.