An extraordinary low tide left parts of the old town almost blocked yesterday, with canals dried out, gondolas stuck in the mud, and public transportation in difficulties.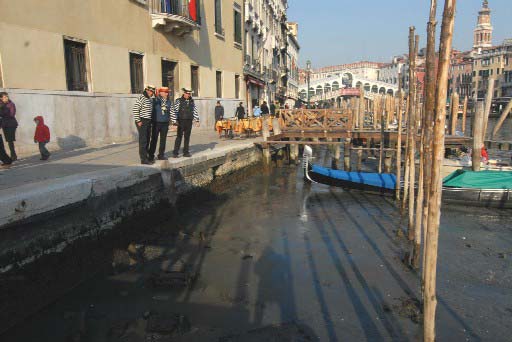 An ordinary low tide in Venice is between -40cm and -30cm but this one reached -72cm when it was at its lowest. At -60cm transportation in the city started to suffer, and the municipal tidal office was sent into a frenzy, trying to keep the city going.
Gondolas and taxis got stuck in the mud and couldn't go anywhere, and even in Canal Grande there were problems. The floating "bus stops" of the vaporetti became so inclined the boats could hardly moor and passengers had difficulty getting on and off the busses.
The morning low today only reached -14cm, but the afternoon low is expected to reach -68cm, promising another problematic day for the Serenissima.
Source: La Nuova di Venezia e Mestre.
More photos: Bassa marea – barche a secco.