Tomorrow is Vogalonga day, and we're on our way to bed so we can get up in time for the start at 9 in the St. Mark's basin.
Today we've had a group of Vogalonga participants on a tour on Venice in kayak. We were three Sardinians, three from Puglia, one from Bologna, four Frenchmen and a lone Englishman, plus a Dane and a Venetian.
We had no specific plan, other than paddling around the city enjoying the scenery.
This time we managed to paddle all the way through the Arsenal. Its still a closed military area, though it is full of non military activities, so you can get in legally on foot, but not in a boat. We took the chance, and only at the very exit were we told to leave.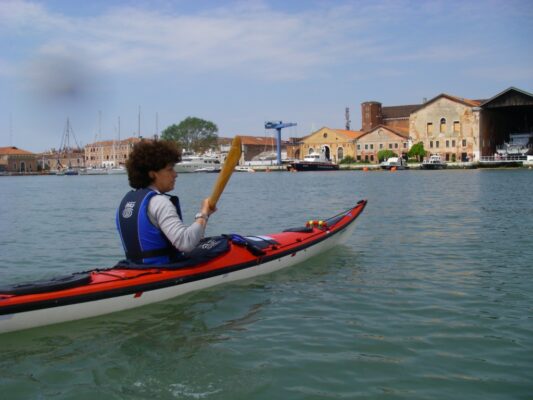 We then had a close encounter with a vaporetto in the St. Mark's basin, which almost ended a couple of participants in the water, but we got by safely all of us.
We then spend several hours paddling around in the area of St. Mark's, San Polo, Dorsoduro and Cannaregio. We had lunch near Piazza San Barnabá.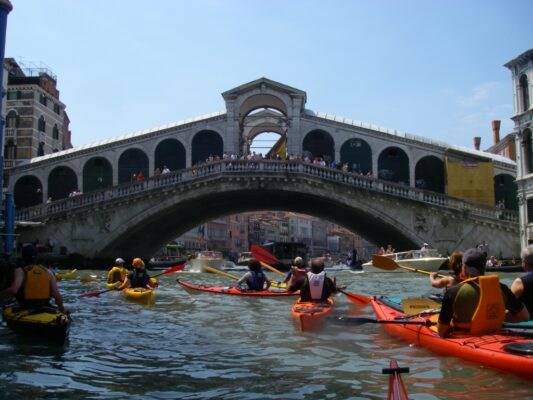 The city is full of weird boats, from kayaks to huge canoes to polynesian canoes and many other water crafts I don't know the name of.
On our way back we paddled north of the city back to the Arsenale, around Certosa and back to the camping on the Lido.
I have many photos but I'm too tired to upload them now.
More photos on Flickr.