When my uncle died last year, Valentina and I were offered the old wine glasses my uncle had inherited from my grandmother. They have been in the family since long before I was born, and my guess is that they were bought in the 1930s or 1940s.
They're handmade, blown, faceted with an hexagonal stalk, and all bit different. It is not an industrial product, but made individually by a skilled craftsman.
We have three sizes: red wine, white wine and port, but in different numbers, probably because some glasses has been broken throughout the years. The white wine glasses are green, as were common back then.
Today, for a St. Valentine's excursion, we went to the Copenhagen City Museum because we've never been there and its been on our lists of thins to do for a long time. Now, imaging our surprise when we see this table set on the first floor, with a sign saying "Typical bourgeoisie dinner table, early 20th century". The wine glasses are completely identical to ours.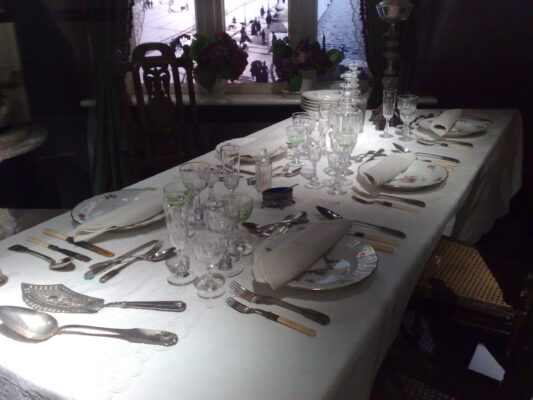 Now, as I remember, these glasses weren't found on the "typical dinner table" in my family – they were for feasts and celebrations, but then my grandparents weren't "bourgeosie", but middle class like most others.
Naturally that experience made me quite curious, and I searched the net a bit to see what it is we have in the cupboard in the kitchen. I discovered that the series is called Derby, and it was made by Holmegaard glassworks from 1891 and later by Kastrup glassworks up to 1950. Both companies are Danish. Holmegaard is the oldest Danish glassworks, founded in 1825 and still working.
There are at least seven different glasses in the series: tall champagne, wide champagne, large glass for beer or water, red wine, white wine (green), port and aquavit.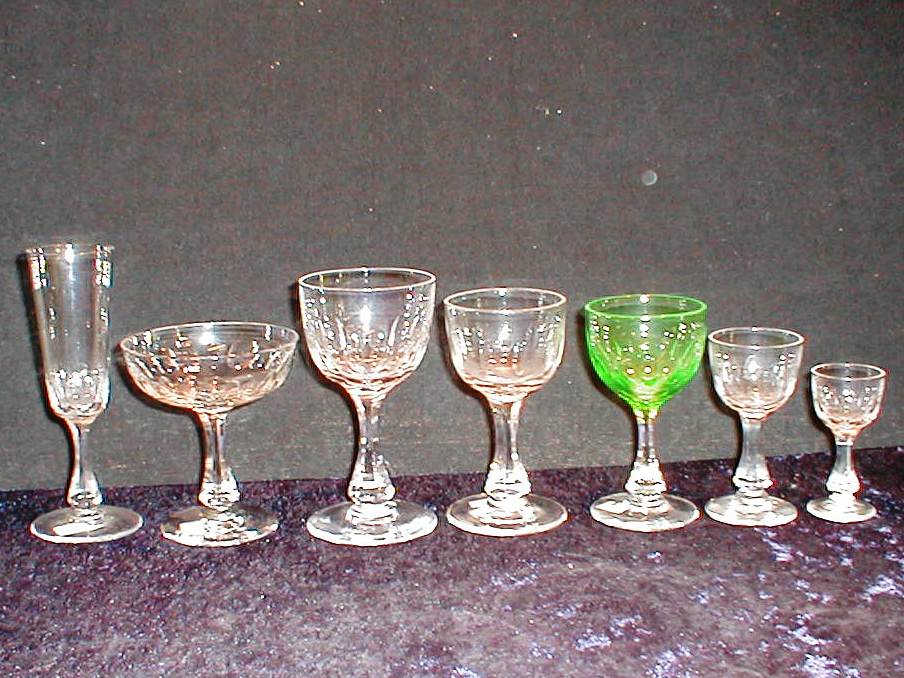 We have number 2, 3 and 4 from the right, and I know my aunt has a few aquavit glasses as well.
The nice thing about this discovery is that since these glasses are still common in antique shops, we have the possibility of supplementing what we have. Champagne glasses would be nice for New Year's eve 🙂