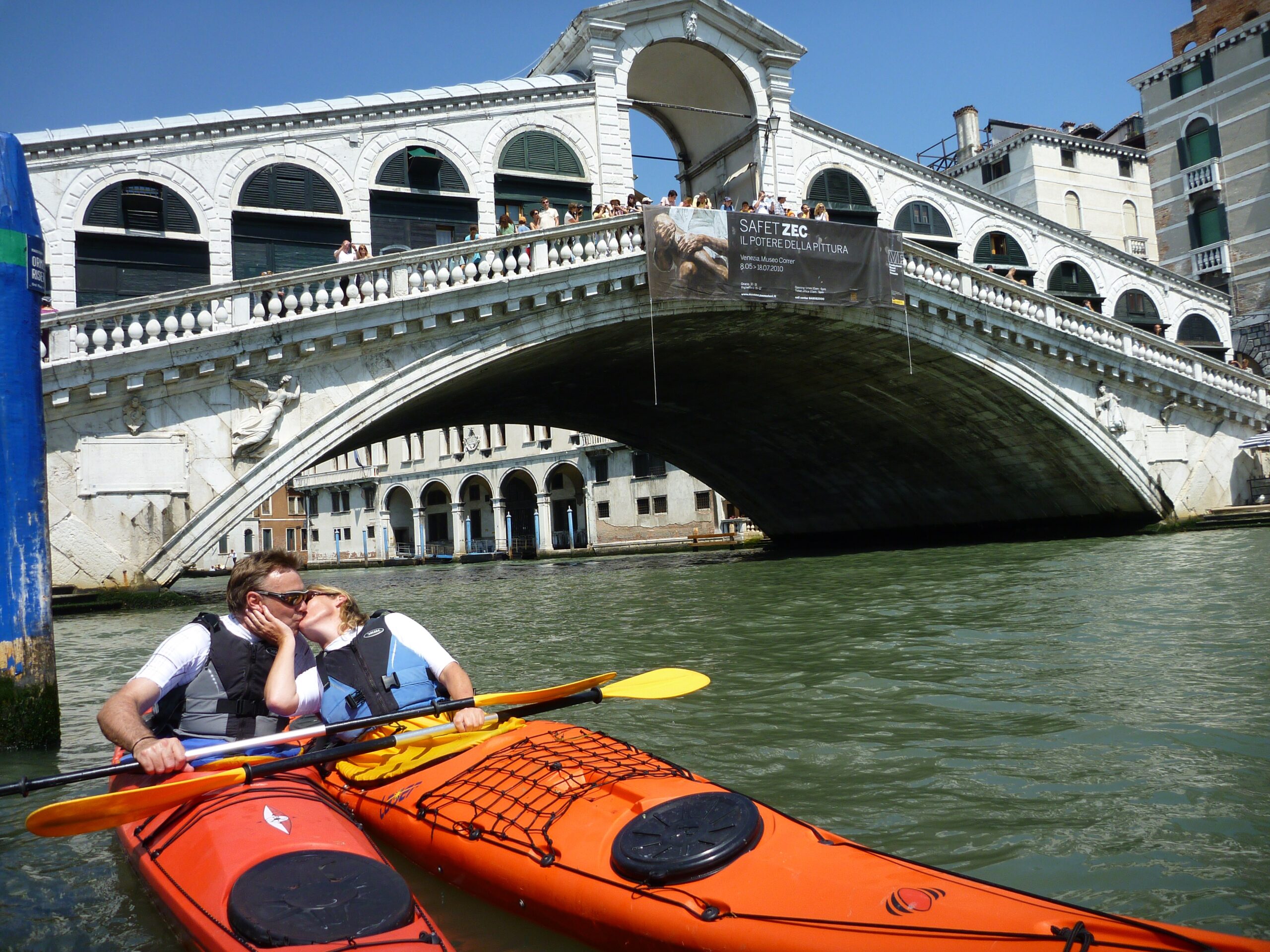 The city of Venice has administratively issued a total ban on kayaking in Venice in all the major canals of the city, including the Grand Canal, only allowing kayaking in some of the smaller canals after 3pm.
The ban was published on Tuesday, July 31st, and entered into force on Wednesday, August 1st, less than 24 hours later.
Venice Kayak will therefore as of August 1st only offer short afternoon tours in a limited part of Venice city. All other types of tours if Venice city are as of August 1st suspended.
Tours in the lagoon are not affected.
Venice Kayak has always operated according to the rules and laws of the land, and will continue to do so, in spite of the extremely short warning of less than one working day.
Reasons and justifications
The city administration gives the safety of navigation as the main cause of the ban on kayaking in the city canals, but without giving any concrete examples or explanations.
In the ten years Venice Kayak has operated, there has not been one single serious accident involving a kayak. In the same period there has been numerous serious accidents, in and around the city, also fatal accidents, all inevitably involving motor boats.
Venice Kayaks has never been fined or accused of any wrong doing.
The sources of danger in the water traffic in Venice all stem from too many, too large and too powerful motorboats, too often conducted in a ruthless and reckless way, putting others in danger needlessly.
The response of the city administration is to remove those exposed to the dangers, while doing nothing whatsoever against those who cause the danger.
It is a typical example of victim blaming.
Why not encourage paddling and rowing?
Rather, rowing and paddling in Venice should be encouraged and supported.
Rowed and paddled crafts have zero environmental impact, and they cause no damage to the city fabric, unlike motorboats whose wake and displacements is grinding down the city.
The presence of kayaks and similar boats in the canals of the city also have a moderating effect on traffic in general. The larger boats, taxis and cargo boats, are forced to go slower because of our presence, thus limiting the damage their boats cause the city.
All other major cities tend to exclude polluting and damaging traffic from the city centres and encourage more environmentally friendly means of transport. Venice now does the opposite. The city of Venice actively excludes most low impact boats, while doing nothing whatsoever to counter the much more damaging motorboats.
Venice Kayak is not opposed to regulation of paddling in Venice, and we have tried to enter into a constructive dialogue with the city administration. We have had a meeting with the official who have signed the new ban on kayaking, but they obviously don't care.
Venice Kayak intends to oppose this unjustified ban on kayaking with all means at our disposal.