We've gotten our hands on a Philips PicoPix Max portable projector, and it is a very nice little gadget.
The projector is an android device with the projector instead of a display, and a touchpad on the top of the device for input. It comes with a remote control that'll handle most of the day to day input needs.
Connectivity is by Wi-Fi and Bluetooth, and video input through HDMI (standard plug size), USB C, android screen casting or from a micro SD card reader or USB.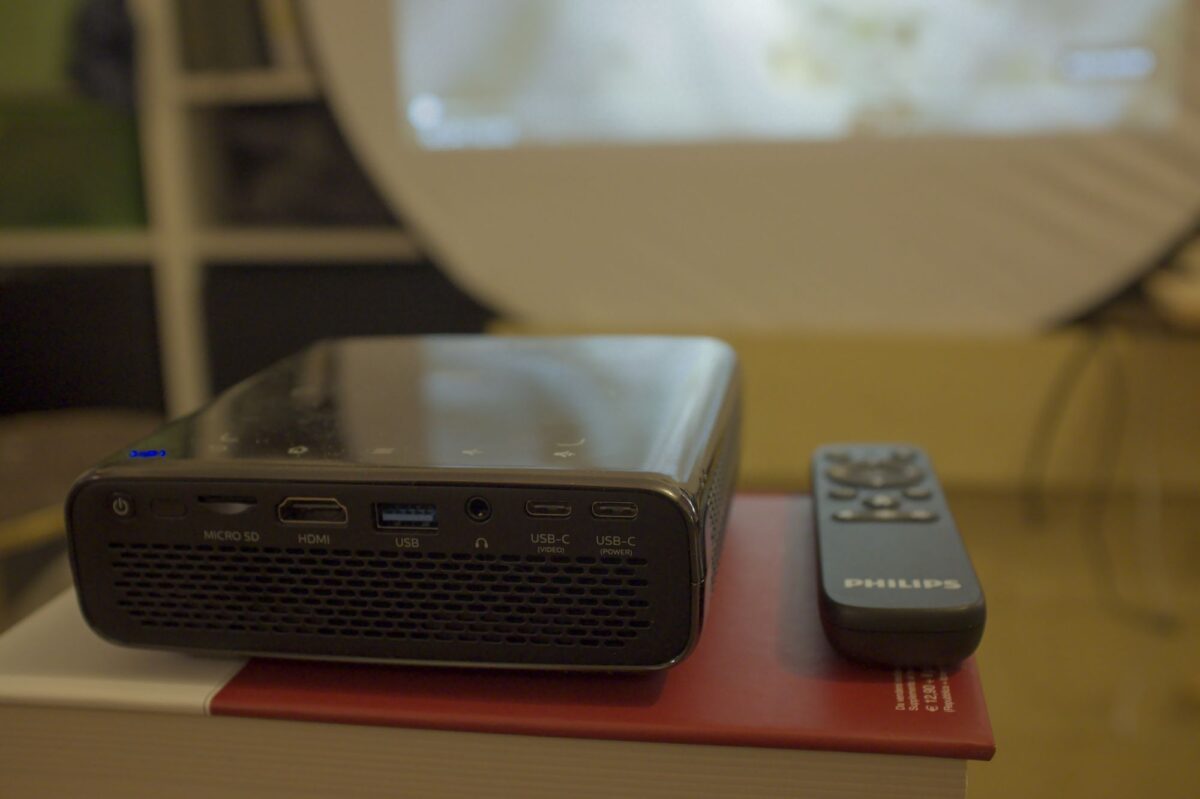 First impressions
It's small and unpretentious: black, about 15×15×5cm, and weights about 1kg. It has a standard tripod attachment below, so you can mount it on anything you can mount a DSLR on. It comes with a small tripod, but it doesn't feel very solid. It'll happily stand on a table or chair without a tripod.
The image is great. It auto-focuses, and adjust the corners so you have a rectangular image even if the projector is at an angle to the wall or screen.
The size of the projected image is about as wide as the distance the projector is from the wall. Therefore, at 1m you'll get a 1m wide display, and at 3m you'll get a 3m wide display. A digital zoom function can reduce the image between 100% and 80%.
It charges by USB-C with it's own 65W charger (using a USB C-C cable), and the battery lasts about 3 hours. You get a warning on the display when there's about 15 minutes charge left.
The projector is an Android device with internet access, so you can stream video directly. It comes with Prime Video, Hulu and Netflix installed, and a couple of video players, including MX Player Pro.
We have Prime Video and it's as easy as on a phone, except you have a 1m to 3m wide display.
I've attached my laptop to the projector with a HDMI cable, and it worked without a hitch. Frankly, it couldn't be easier.
Android phones can cast the phone screen to the projector without installing any apps. It just works.
The PicoPix Max has a fan that makes a bit of noise, but we would 'unhear' it after a few minutes. The fan is audible, but not to an extent that it's a problem.
Setup
It was fairly easy to setup, much like any other Android device.
I plugged in a USB keyboard and mouse combo to enter the Wi-Fi password more easily, and that worked without a hitch. Currently I have paired a Bluetooth mini keyboard, because entering text on the on-screen keyboard using the touchpad or the remote is very slow.
The Prime Video app didn't work initially, but after an update of the system (online and very smooth) and the Prime Video app it works well.
We don't have a TV, so I have little experience with Smart TVs. The PicoPix Max seems, however, to behave like an Android Smart TV. At first I installed the wrong Prime Video app, for phones and tablets, so I had two, and I had to install the Smart TV version.
Firefox is also a Firefox for TV, not the normal Android app.