Today we rounded the northern tip of Sardinia, the Punta Falcone.
We spent the night on a beach in Cala di Trana, close to Palau. We launched on a calm and quiet day, almost no wind and little waves. It looked like a paddle in the park on an overcast day.
Within 30 minutes we got a slight drizzle, but soon all our landmarks were out of sight and we did another 30 minutes on the compass only, until it cleared up a bit and we got closer to the coast of Valle d'Erica.
We had hoped to stop there for a morning cappuccino, but there were no bars in sight with a good landing spot nearby, so we forgot about our little morning luxury and paddled on along the coast.
Not a second after we stuck our bows into the waters of the Stretto di Bonifacio we got a force 4 to 5 with 1-2m waves thrown in the face. We paddled with this companion on our right for a couple of hours, until we reached the marina of Santa Teresa Gallura, eager for a break and some lunch.
The marina is rather large and we paddled around for some time looking for a good landing spot close to the restaurant when we were approached by two very common looking assholes, one male and one female, who unceremoniously told us that 'canoes' weren't allowed in the marina.
That led us to the conclusion that the people of the marina of Santa Teresa Gallura didn't like our money, so we turned around and left. Fortunately, just around the next rock were the local city beach, where we could land in peace, be greeted by a couple of impressed locals, and have a good, albeit not inexpensive pizza with a clear view of the beach and our kayaks.
I have had some backaches since I slipped on the brink of beach at Cala Morescue and hurt my back. The pains have been manageable so far, thanks to regular short breaks, but our trip through the waves today made these backaches worse, and as we arrived in Santa Teresa Gallura my back was quite stiff and I had a hard time edging the kayak in the waves. After lunch we decided to stay the night in Santa Teresa Gallura to let my back recover. Hopefully the next days will be less exacting on my back, so we can keep a reasonable pace.
We've spent the time this afternoon reading and writing mail, blogging, updating our personal diaries, and charging all our depleted batteries.
Tomorrow we'll round the Capo Testa and follow the coast SW towards Porto Torres where we'll be in a few days time, weather, wind, waves and whining willing.
Today's camp at Santa Teresa Gallura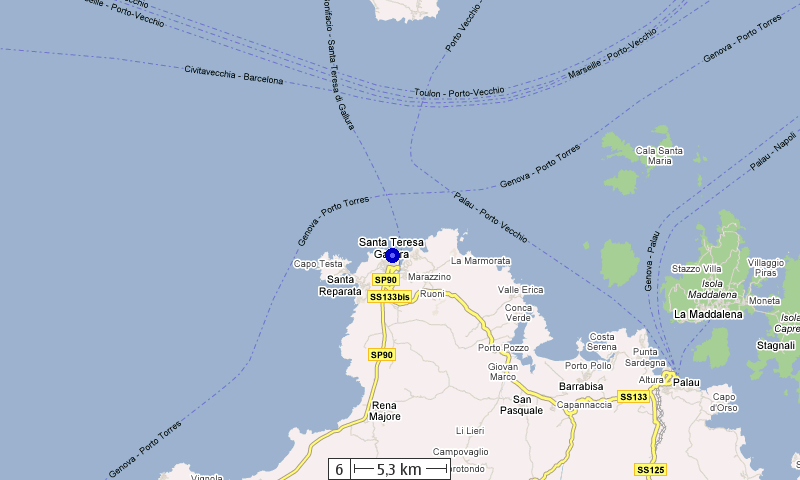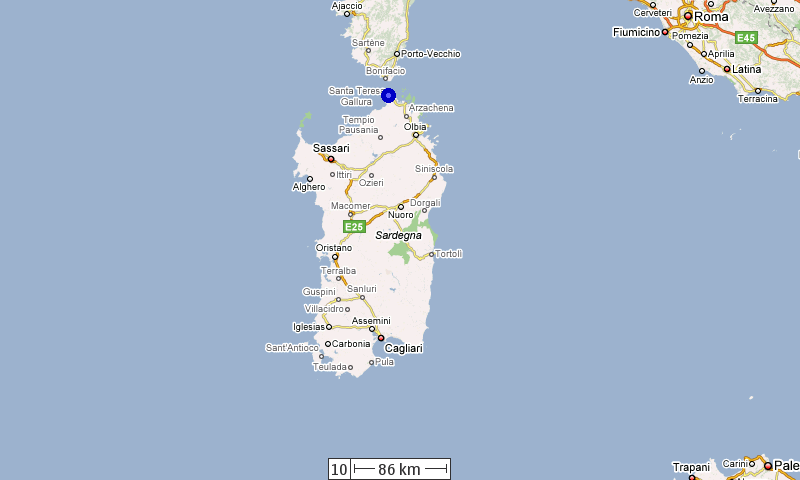 Yesterday's camp at Cala di Trana