Each year Kajakhotellet.dk organises a Santa Lucia procession in kayak to collect funds for Amnesty International.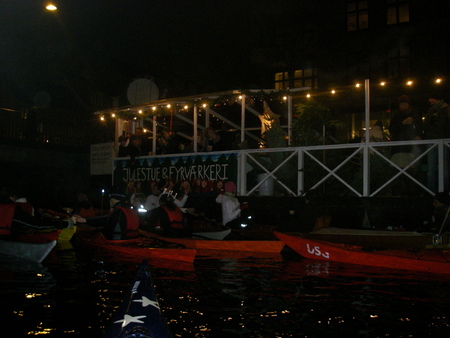 Besides having a charitable purpose—each paddler paid €15 to AI to participate—its also a good excuse to get to paddle a bit off season. We were around 100 paddlers today. I saw one or two television crew on land, so we might have made the local news.
The Santa Lucia procession is a celebration for the return of light, so we put lights on our kayaks and paddle through the canals of inner Copenhagen after dark. At times the children on the quays spontaneously sang the Santa Lucia carol as we passed, and people shouted comments and salutations. Most people found it very beautiful with a hundred illuminated kayaks in the canals.
At a canal side café we all had gløgg and æbleskiver, served in the boats 🙂
Pavia Lumholt participated too, and he promptly capsized. Good thing he knows who to roll 🙂
Actually, Pavia did a very impression little rolling demo in some very cold water.