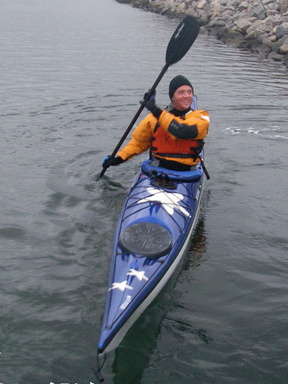 Today I unwrapped the most beautiful kayak in the world.
It is a Rockpool Menai 18 and Mike Webb has outdone himself. Many Rockpool kayaks are spectacular, but none is as beautiful as mine 🙂
I ordered the Menai 18 last summer, and it was my intention to use it for the journey in Sardinia this autumn, but it wasn't ready in time. The boat was delivered to Kajakhotellet.dk while I was away, and only now have I had the time to unpack it.
I've paddled the Menai for quite a while, because Escape Kayak Center in Göteborg, Sweden, where I ordered it, borrowed me another Menai when they couldn't deliver as promised. Not many kayak shops can match such a level of service, but Escape is rather special. Don't miss out on a visit there if you happen to pass Göteborg.
There's a handful of photos after the fold (about 1Mb) …