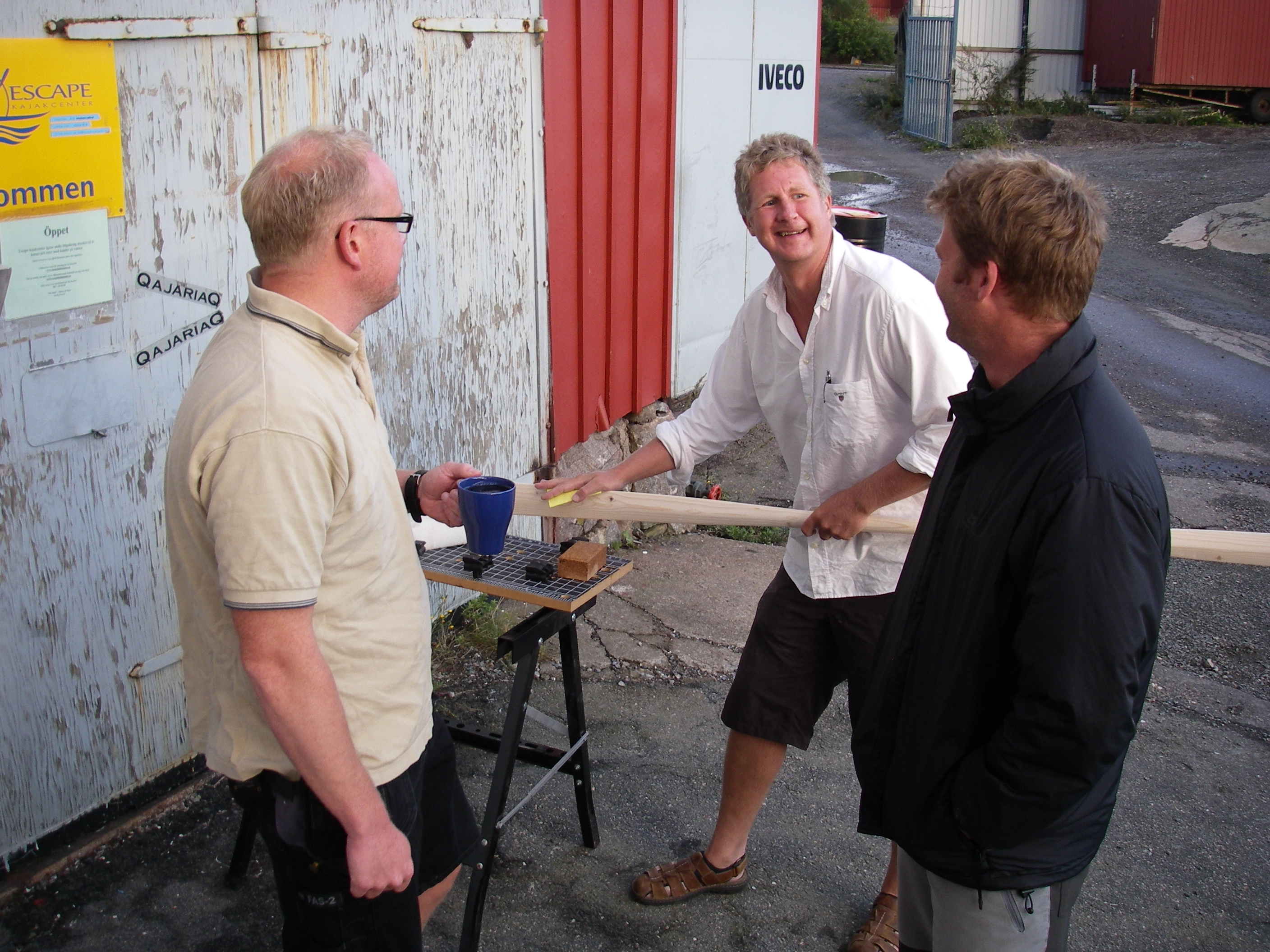 After the Stockenträffen in Orust, Sweden, Wendy and I went to Göteborg with Sara and Johan from Escape Kayak Centre. Wendy has agreed to do her Newfoundland presentation at Escape on Tuesday evening, so we had two whole days there.
Dubside who had been touring southern Sweden with Escape in the weeks up to the Stockenträffen, was still there for a few rolling classes.
Wendy and I stayed at the centre, sleeping upstairs on the floor, but while accomodation might have been a bit primitive, the kayaks and gear at our disposal were absolutely top class. Escape has a small fleet of Rockpool kayaks, and some NDK and Valley kayaks too, and if you need a paddle, there are both Werner and Superior Kayaks carbon paddles.
Escape is located in Frölunda just south of Göteborg, in a small leisure harbour. In front of Frölunda is a 5-6 km wide archipelago of small rock islands and skerries until it opens up to the sea. There is an amazing variation of paddling opportunities. It is the perfect area for daytrips or weekend outings.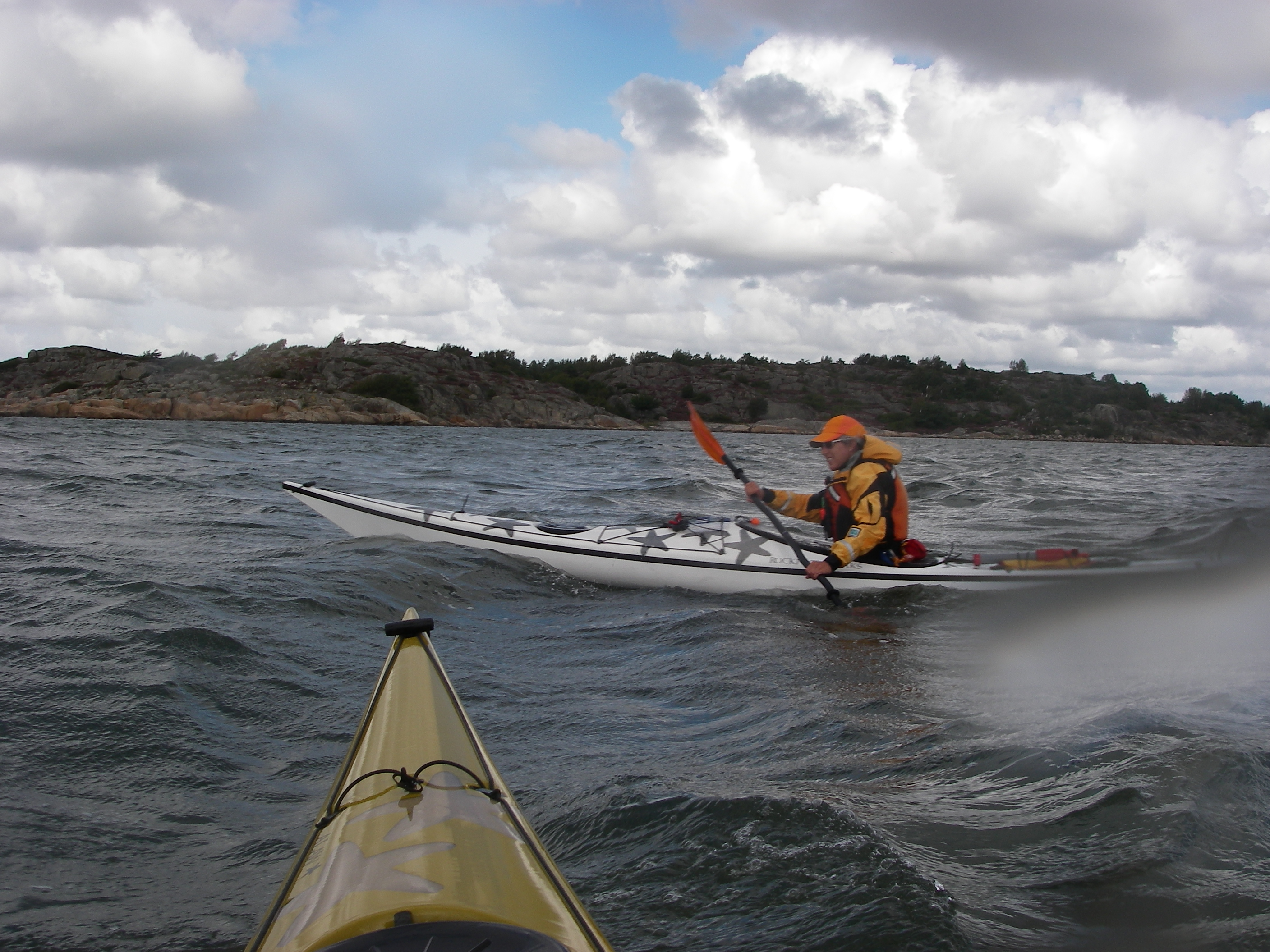 On Monday we borrowed a couple of Rockpool boats for a short outing between the skerries. Wendy picked an Alaw Bach and I an Alaw. It was a very windy day, and the forecast warned of rain, so we didn't plan for anything extensive. On our way out we had a force 5 headwind, Wendy almost got hit by a little ferry and it started to rain. We had expected a bit of easy paddling back with a good following wind, but as the rain stopped so did the wind. It was, non the less, a very nice day and a good little paddle.
We did some shopping for Tuesday's trip, and then we all went to a local restaurant, with Sara, Johan, Dubside and the two Escape regulars Peter and Kalle.
Tuesday we left earlier for a daytrip. Wendy took the NSK Greenlander Pro again, so I got to try the Rockpool Alaw Bach again. It is such a wonderful little boat, a fiberglass invitation to play and have fun:-)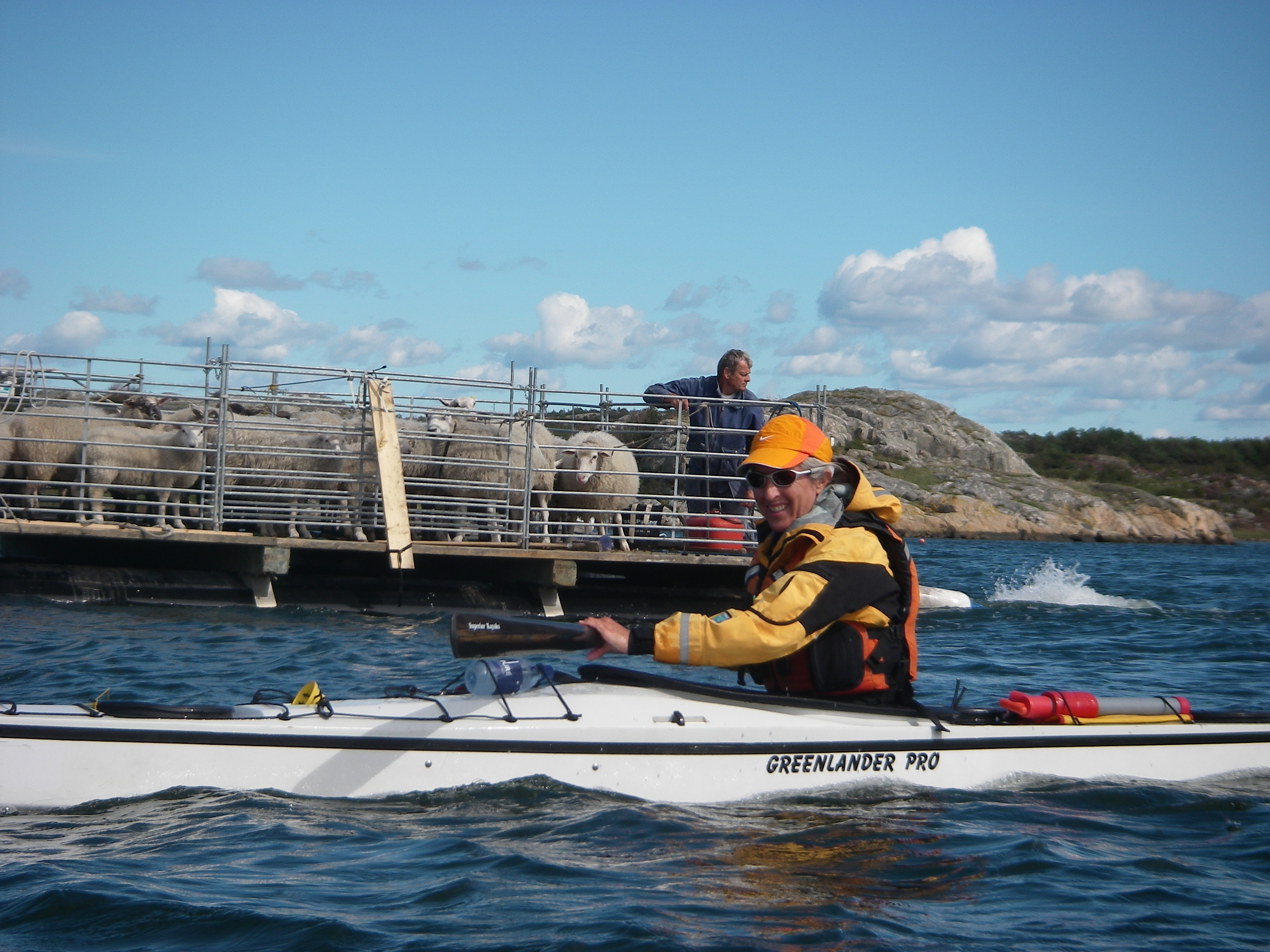 The day was completely opposite the previous. Bright sunshine and little wind, so we had quite an easy paddle. We saw Eider ducks, Canada geese and herons. On our first break on a little beach we were greeted by a couple of sheep, and later we even paddled with sheep. How many can say they have done that? The man on the barge insisted that the sheep didn't get sea sick 🙂
Our plan was to have lunch on the Greater Fox Island (Stora Rävholmen) where the skerries meet the sea, but we missed the bay we had been told was the best place for the stop. We did find a very nice place for our lunch anyway, carrying the kayaks up on the rocks.
Apparently, all the local paddles will head for Greater Fox Island on the first weekend of September for an informal weekend camping and paddling. Nobody organises it, people just show up.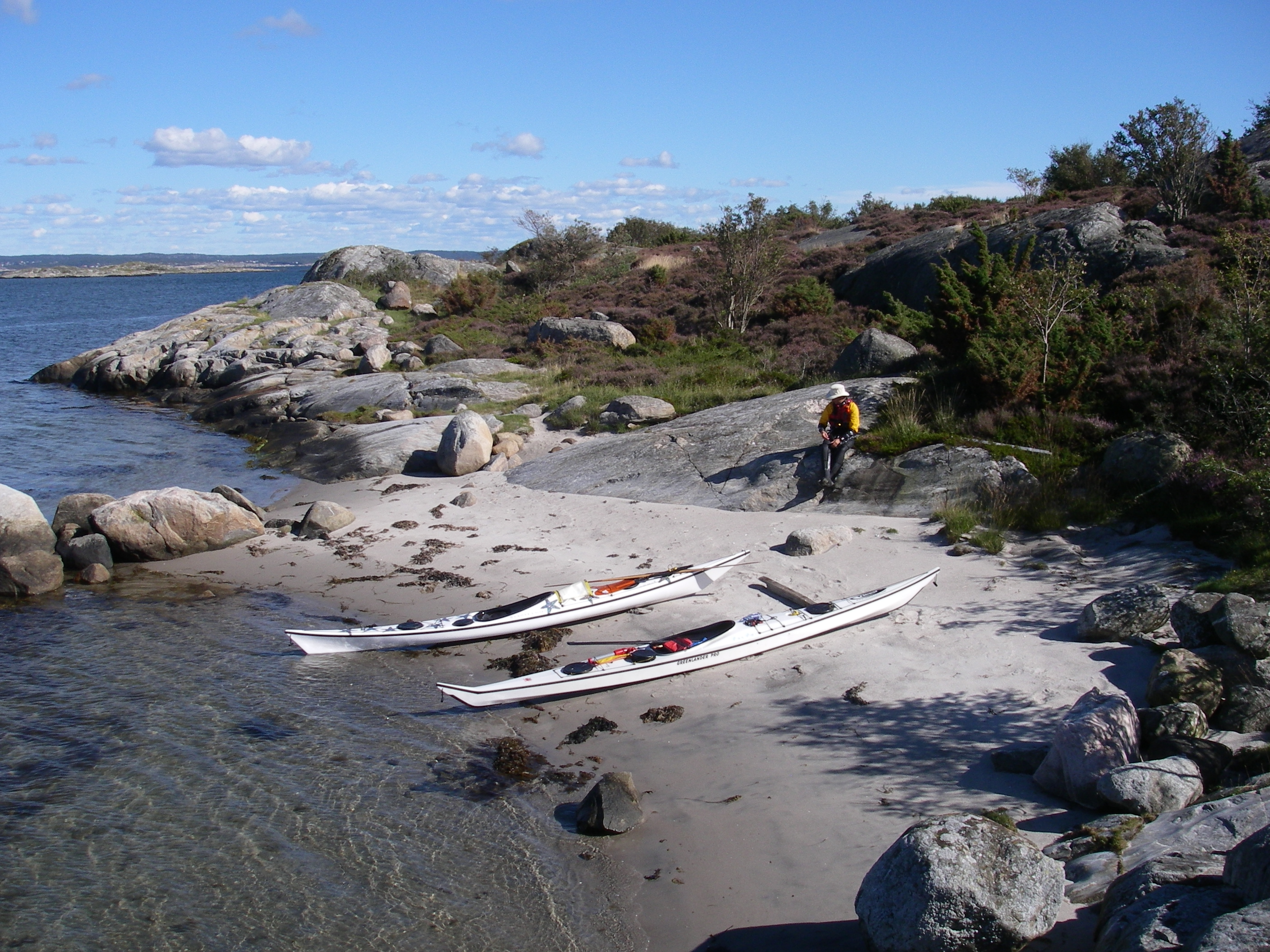 On our way back we found such a nice little beach we just had to stop for a bite of chocolate 🙂
We came back just as Dubside was on his way out for his rolling class. We had a quick dinner and started getting everything ready for Wendy's presentation. Escape didn't have a projector, and as they couldn't find one to rent cheaply, Johan just bought an expensive one 🙂
I had never seen Wendy's presentation of her Newfoundland journey before, and I was pleasantly surprised. Wendy is clearly a very talented, skilled and experienced presenter. Her presentation was clear, well organised, interesting and varied, and the audience of some twenty local paddlers clearly enjoyed it immensely, and the questions and answers session afterwards took much longer than the presentation. That is always a good sign 🙂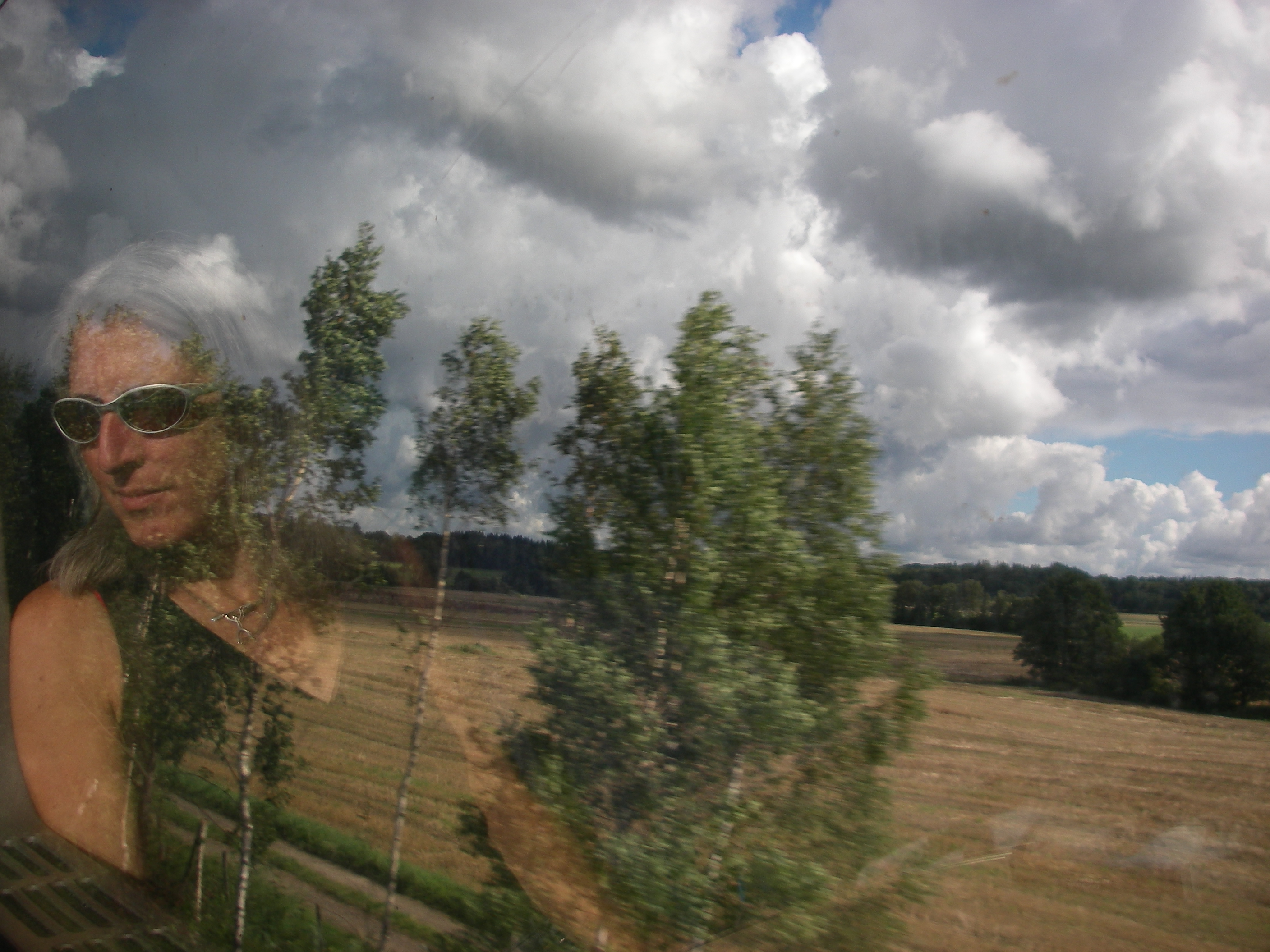 Wednesday morning we got up, packed our stuff and got a ride to the station so we could get back to Copenhagen. Unfortunately, my cappuccino consumption during the days in Stocken and at Escape had been way too low, so I just had to get a double cappuccino to go at the station, and hadn't it been for Wendy, who threw her massive duffelbag in the automatic doors of the train, the train would have left un schedule without me and our cappuccinos. We did get quite the reprimand from the probably otherwise nice uniformed ladies on the train, but we were on board and so were our cappuccinos.
I must remember to bring my cappuccino gear with me to Sardinia and Sicily 🙂
More photos from our stay at Escape Kayak Centre.
Mondays paddle on Google Earth.
Tuesdays paddle on Google Earth.