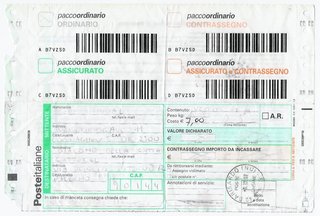 I sent a parcel from Sardinia last October. I sent it to Palermo where it arrived after two weeks. Unfortunately, it wasn't picked up by the recipient, so it was returned, but returned to where?
I've been hunting this parcel for over three months now, and I'm still none the wiser.
The kayak journey in Sardinia was my first ever long kayak trip, and I had packed way too much stuff. After about a weeks paddling I decided to send what I no longer believed I would need back to a good friend in Palermo, Giacomo della Gatta. On the first rest day, which happened to be at Torre di Bari near the inland city of Bari Sardo, I went through all my stuff, and pruned my luggage with a fairly rough hand. We got a lift to Bari Sardo, which was a few kilometres inland, and made a huge parcel of some boxes from a supermarket and ample quantities of duct tape.
I asked what I should use as a return address, since we weren't going to stay there, and I was advised to give my Danish address as the return address. In case of a failed delivery the parcel would then be returned to Denmark, although at an additional cost.
A fairly huge parcel of almost 10kg cost only €7, which was quite astonishing. We had both expected it to be some €40-50 at least.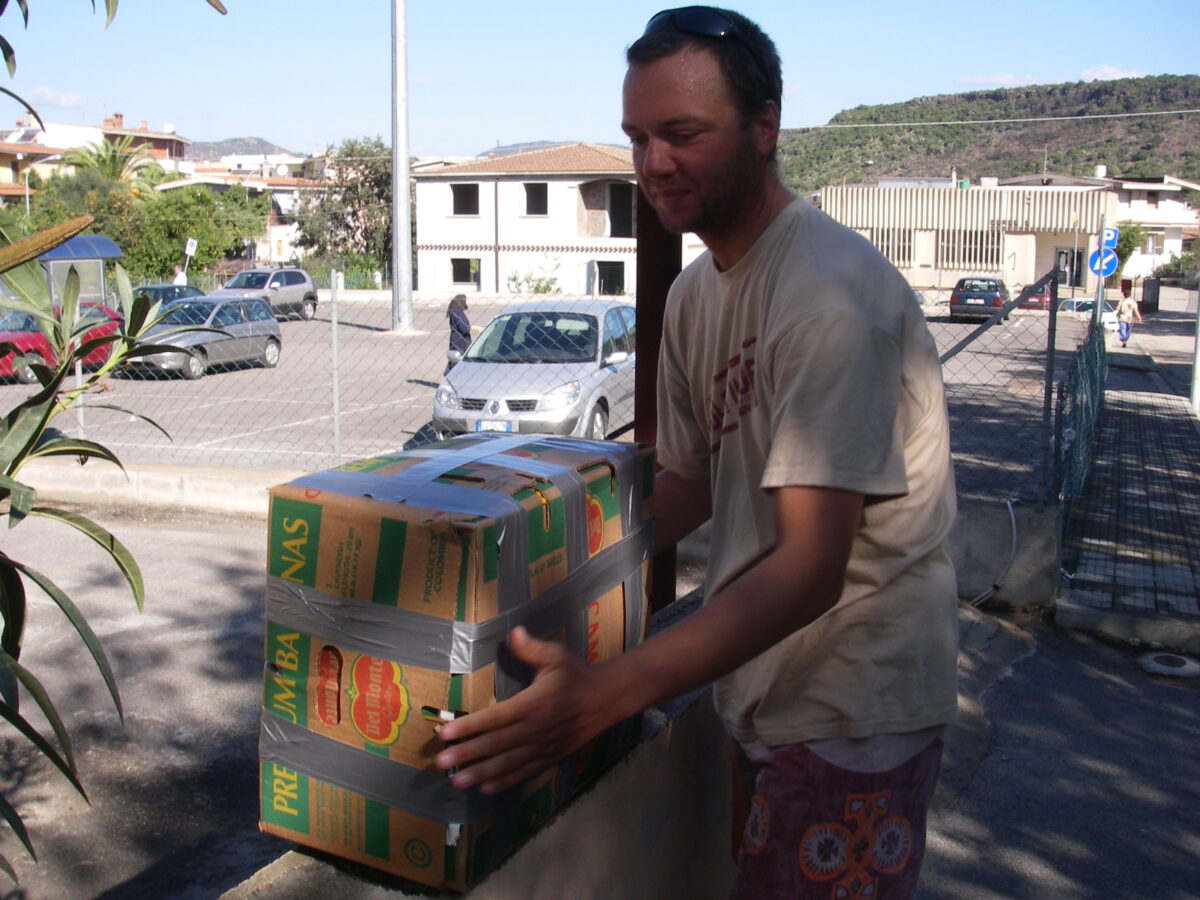 Anyway, off it went, into the unknown and mysterious bowels of the Italian postal beast.
We continued our journey and inquired a few times if Giacomo had received it, but no. Well, not to worry, nobody in their right mind would expect a parcel to arrive in less than a few weeks anyway. Not in Italy, at least.
When I returned to Palermo in early November and met Giacomo again, he told me that the parcel had arrived a week before, but since I had addressed it to a little used office of his company, he hadn't been able to pick it up within the seven day limit given.
Giacomo had called the post office in Palermo to ask what would happen to the parcel, and they confirmed that the parcel had been returned. When asked where to, the answer was to Denmark. I called the toll free number a week later and got the same message. Everything should be fine then, as I was on my way back home too.
Back in Denmark, now in early December, I still hadn't seen anything of the parcel. I then contacted the Danish mail to hear if they had any news on the parcel, but they had never heard of it. Over a month after it should have been returned, the parcel was apparently still somewhere in Italy.
I tried to call the toll free number again from Denmark, but it didn't work. It seems the number only works within Italy, but the homepage of the Poste Italiane doesn't give any other numbers to call. I then wrote an email, and after a week I got an answer: an empty email with a MS word document attached with two lines of text: please call the toll free number. Well, it doesn't work.
I have since written the Italian mail once a week requesting a reply by email, but haven't received any kind of responses after about a month of trying. My in-laws in Palermo have been calling the toll free number and talking to the post office in Palermo, and has only gotten the usual answer: the parcel has been returned to Denmark. Only it hasn't.
In the last few days we have been able to get different responses, though. My in-laws was now told that the parcel had been returned to the post office in Bari Sardo from where it had been sent, but I called them today and they don't know anything about it. It's a very small post office, and they actually remembered me from back in October, and were quite certain that no such parcel had returned to them.
I have myself been calling the main corporate number of the Poste Italiane, and there I got the answer that they were way behind with answering correspondence that I would just have to wait until it got my turn. They wouldn't be able to answer me in any way before they had worked off the backlog. According to the Italian press they do seem to have problems.
So, after three month I have gotten nowhere. The only factual information I have about the parcel is that it is not in Bari Sardo. I will be writing them once a week as I have been doing since before Christmas, but I'm losing faith that I will ever see that parcel again.