A bit delayed, as is normal and indeed expected here in Italy, I've arrived here at the Capalonga Camping for the first Bibione Kayak Symposium. It was a 90km drive from Venice, with side bags on the motorcycle, the tent and a split paddle on the back seat. The only noteworthy event of the drive were at Bibione where they had little signs along the road saying: "Beware! Crossing squirrels".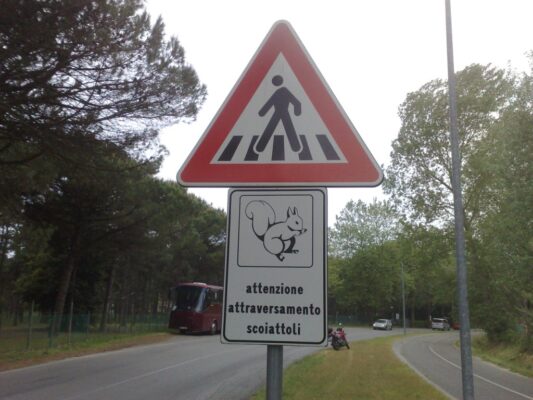 My main purpose here is to get to known all the important people from the Italian kayaking world. Sea kayaking is not a big sport in Italy, at least not yet, so it shouldn't be an entirely unrealistic goal.
I've been writing a bit with the people of Sea Kayak Design, as they're supporting our Venetian kayak venture with kayaks at cost price, and today I finally met Giuseppe, Rino and Raymond in person. They have some very nice, well designed and well built kayaks that I'm really looking forward to trying. That's one of the things on my agenda for tomorrow.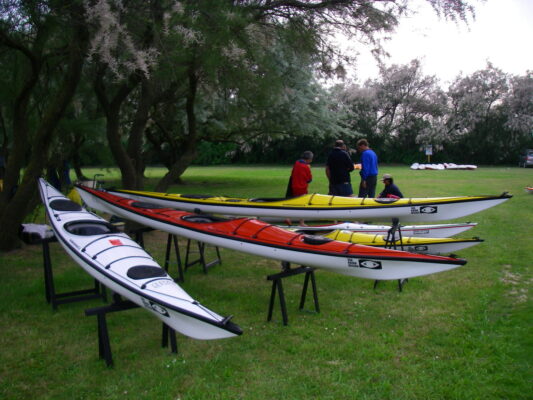 Sea Kayak Design wants to emphasize on build quality rather than on quantity. They kayaks I saw today were certainly of impeccable craftmanship, but the real test will be if orders come in faster than they can keep up with. Good thing than Venice Kayak will get some of the early one. Venice Kayak will work as a test center for Sea Kayak Design, so drop by and give them a try one day.
The special guest here at Bibione are Nigel Foster, Kristin Nelson and Jen Kleck. I had the fortune to paddle part of this year's Vogalonga with them. They're doing classes here each day, but since most participants will only show up in the weekend, the classes haven't been very booked. So much the better for those of us who are here before the weekend, so I have signed up for a morning class with Jen and an afternoon with Nigel and Kristin. I believe that we will only be a handful at most.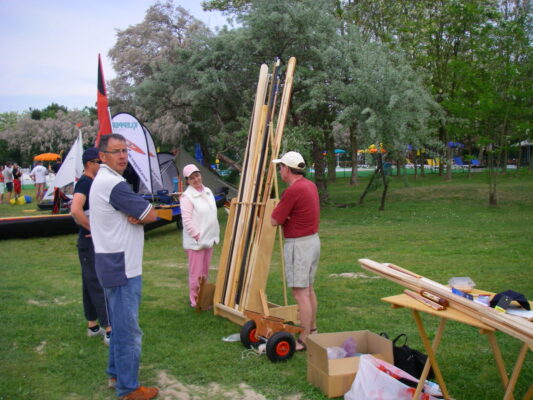 Nicola de Florio from Avatak Pagaie is also here. Its been quite a while, so its been great seeing him again.
Many Italian paddlers seem to know me now, even if I don't know them yet. Partly because of the spactacular failure last year with the circumnavigation of Sardinia, partly because it doesn't happen every day that a Dane not only gets the silly idea of organising paddling tours of Venice, but actually tries to do it. I guess it also helps that the sea kayaking world in Italy is of limited size.-
I still haven't any squirrels around here.