My mothers maiden name is Wils. We've long believed it was of Dutch origin, without having any proof, but I've been in contact with a relative of my mother's who've done an extensive genealogical study of the family, and in fact the name does come from the Netherlands.
Hendrich Wils, born in Luikgestel in 1793, moved to Denmark in 1809 at the age of 16, to work as a travelling tradesman in copper pots and pans. At a later time he settled in Horsens, where he continued to trade in copperware, employing other travelling traders. He then moved to Faaborg, now under the more Danish name Henrik Wils, and from trading in copperware he extended into the production of linseed oil, and he was among the founders of the local savings bank Faaborg Sparekasse where he also served as bank manager for a period. He married a Danish women with whom he had four children, and he was granted Danish citizenship by law in 1865. He died in 1866 as a wealthy and respected citizen of his town.
His son Henrik Wilhelm Wils was born in Faaborg in 1841, and took over his father's business, but apparently he did have his father's talent in trading, because at his death in 1894 there were only enough left to cover the expenses of the funeral.
Henrik Wilhelm Wils married Karen Christine Christiansen and they had six sons and one daughter.
Hans Peter Marius Wils, the third son of Henrik Wilhelm Wils, was born in 1875 in Horsens. He worked as a shoemaker in various cities, first in Randers, then he moved to Copenhagen and later to Hillerød where he died in 1924.
He married Maren Caroline Sandø who passed the name Sandø on to her children, and it still runs in some branches of the family. They had eight children, three daughters and five sons.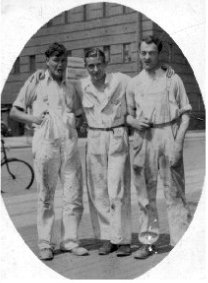 Their fourth child was Harry William Sandø Wils, born in 1909 in Hillerød. He worked as a house painter.
He married Mona Etta Christine Milling from Hillerød, and they had six children. Harry William died in 1940 before the birth of his last daughter.
That last daughter is Kirsten Wils, born in 1940 in Hillerød. At the age of twenty she married bookkeeper Svend Erik Seindal and they had three children, one daughter and two sons, before their divorce fifteen years later. Kirsten is alive and well, and is enjoying her retirement between piles of books and CDs.
Kirsten's second child is René Seindal, great-great-great-grandson of Henrik Wils, a pennyless immigrant from North Brabant in the Netherlands in 1809, two centuries ago.