This evening I felt I had deserved another ice cream, since I had been very productive at the computer. I had been down for one in the afternoon, but why not two on a warm and sunny day.
I go down to the Gelateria S. Stae, 50m down the salizada, I say hi to the girl behind the counter, who remembers me from the afternoon, so I tell her that I'd been working hard all day and that I feel I've deserved a second ice cream of the day. She asks what I'm doing for work. I answer "kayaking in Venice". She starts jumping up and down, screaming "It's you. It's you". I no doubt looked rather baffled, but she was delighted with her discovery, so I just waited for the explanation.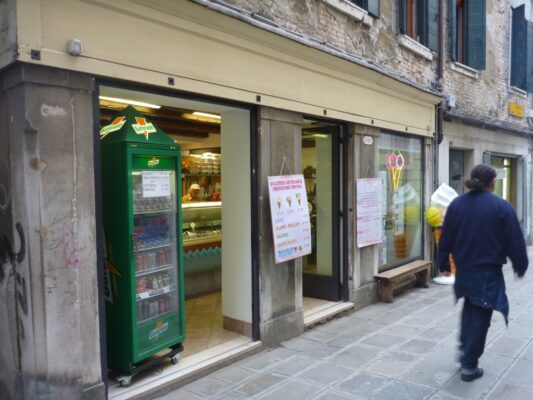 They had realised that in this modern world, if you don't have a web site, you don't exist, so they have started making a web site. In preparation of that, they entered "Gelateria San Stae" in Google, and found the above photo, which I had taken and uploaded to Flickr a while ago, to express my delight that I had a quality ice cream place near my new home. Via my Flickr profile they arrived at Venice Kayak, where there's a photo of me, hence the "Its you. Its you" cry 🙂
I was then forced to leave a stack of my cards for their clients, and to accept an ice cream on the house, which I reluctantly accepted 🙂 Their zabaglione, called Venexiana, and an ice cream with pear grappa are really good.